mamra almond kernels is one of the best snacks because this type of nut has a lot of nutritional value and nutrients in its structure. mamra badam are high in protein, which provides the body with protein and is also one of the most energetic snacks.
Iran Mamra almond is exported mainly to India. They call this nut Mamra Badam. It has many fans in India. Mamra almond is the most nutritional and organic kind of almond.
Zarin Maghz Company is active in the field of Mamra almond and other Iranian nuts export.
high quality mamra badam kernels export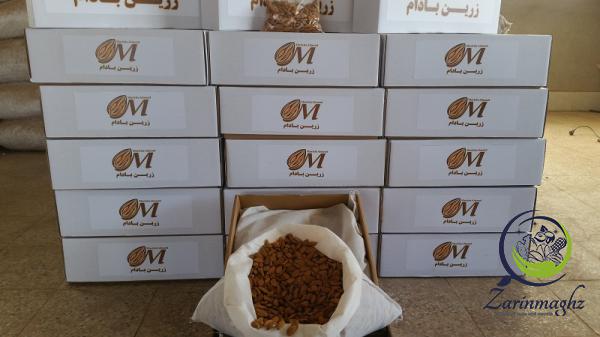 Our collection is engaged in high quality mamra badam kernels export.
Mamra badam are rich in nutrients, which is why it is highly recommended for pregnant women and is necessary for them. One of the reasons for consuming mamra badam for pregnant women is to have a protein nutrient that this type of nutrient is necessary for the mother and the baby. It also strengthens memory and bones.
Another mineral is mamra badam manganese, which helps regulate blood sugar during pregnancy and is also effective in absorbing calcium from food, which improves the mother and the baby's health.
mamra badam kernels contain healthy fats, which are essential for the body and are also useful for managing the weight of the mother and fetus.
Mamra almond benefits are also recommended to prevent early fatigue and depression during pregnancy. Vitamin E helps the beauty so that it makes the skin radiant, which during pregnancy many people are worried about their beauty and are also not allowed to consume chemicals. It is better to consume Mamra almond regularly per day in order to to maintain your beauty and stay away from skin problems.
Main sale center of Mamra almond and Iranian nuts
Zarin Maghz Company is a main sale center of  Mamra almond and Iranian nuts. If you are looking for a wholesaler and supplier of Mamra almond contact our collection.
The manufacturer of high quality Mamra almonds tries to establish reputable agencies all over the country in order to be able to sell its product with excellent quality and reasonable price as soon as possible. The purpose of these agencies is to increase the sales of the product better.
Mamra almond uniquely grows in a special area in Iran named Saman. There are many suppliers of Mamra almond in Iran, However Zarin Maghz company has many almond orchards and is a grower of Mamra almond.
We directly sell Mamra almond without any intermediators. You can buy mamra almond kernels at an affordable prices and high quality.
At present, Mamra almond is one of the most valuable food products in the country. High quality packaged almonds in Iran with excellent quality and reasonable prices are offered in world markets, whose direct supply and elimination of intermediates have led its export to most foreign countries and progress in economy.