If you are looking for mamra badam bulk, contact Zarin Maghz Company. We can provide you wholesale almond and other kinds of Iranian nuts of high quality at the most affordable price.
Almonds are one of the products that are available in different sizes. This product has many properties. In the following, we will acquaint you with the features of this product and how to buy and sell this product.
Where to find original Mamra almond?
Do you know where to find original Mamra almond? Mamra almond is native to Iran. It grows in a special part of Iran. That is why it is not very abundant. Mamra almond has very demandants across the world. It is exported to many countries around the world.
Zarin Maghz Company can provide you mamra badam bulk in a high quality and affordable price.
Almond mamra is a complete food source and belongs to the group of legumes. Because its minerals are like beans. Almond mamra is one of those tasty and delicious snacks that has attracted many fans and in addition to its unique taste, it is considered very useful and nutritious.
This tasty ingredient is placed in the group of nuts and is classified as the best kinds of almonds. It is effective in weight loss, reduces the risk of cardiovascular disease and prevents cancer.
Mamra almond is the most organic almond. No chemicals are used in its cultivation. Some specific features of that are as follows:
It has a hard shell and golden light yellow kernel.
It is more sweet and tasty than other almonds.
The kernels are not in the same size and appearance.
Most of the kernels are twins.
the texture is soft and the kernels are large.
It has high amount of oil. So it is good for oil extraction.
Almond oil is very beneficial for improving skin wrinkles and body health.
Zarin Maghz Company is a direct center of Mamra almond wholesale. We are producer and exporter of different kinds of Iranian nuts including:
pistachios, peanuts, walnuts, hazelnuts, raisins, figs and dried apricots.
mamra badam bulk price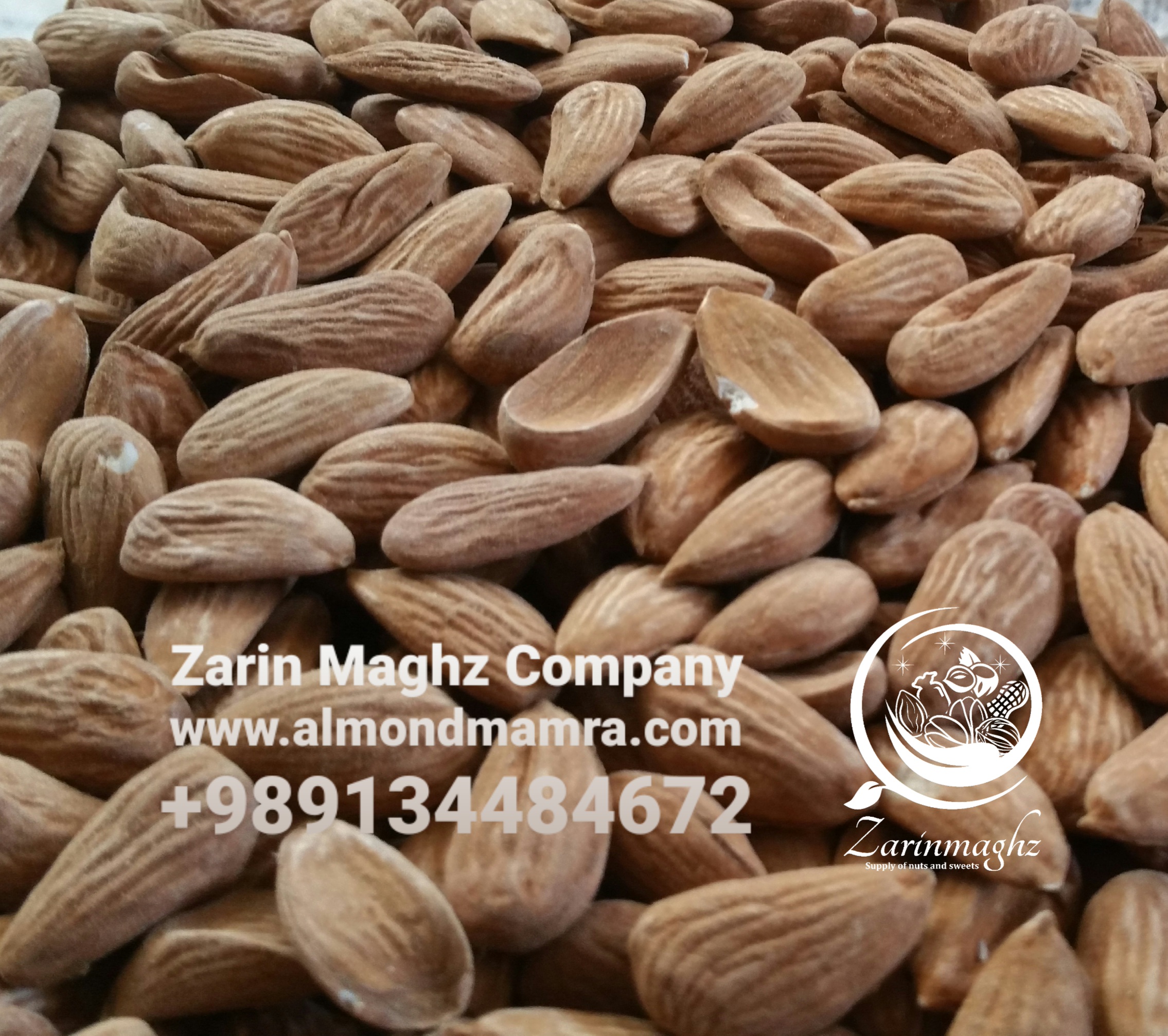 mamra badam bulk price in Zarin Maghz Company is very reasonable. The satisfaction of the customers is the primary and the most significant goal of our collection.
Mamra almond is a very nutritious and useful product that people use according to their properties. Imported almonds usually have a better shape and a better price, however consumers should know that the consumption of almonds is due to its properties and only its shape or price is not of primary importance.
It should also be noted that foreign almonds are not organic and have been genetically modified, and this can make a huge difference in the properties of almonds.
Even according to some research, the consumption of transgenic and inorganic products causes mental and physical problems in People.
Some sellers have sold this product not only in person but also online so that they can buy it without intermediaries and without wasting time and money.
you should make sure that the site is credible when you buy it, because there are some profiteers who try to defraud people by trying to defraud and by using reputable names.
Zarin Maghz Comany is very famous in production and export of Mamra almonds. It has many years of experiences in cooperating with different international traders and merchants. You can find high quality Iranian nuts in our collection.
To buy mamra badam bulk, all you have to do is calling the collection and talking about your desired product and its price.
We will guide you in the best possible way. It is better to order some amount of product as a sample, in order to test its quality. If you were satisfied, You can order in high tonnage.